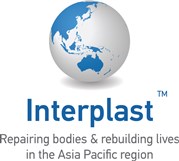 Suzanne Rothery

Expires
Friday, 1 May 2015
Suzy's charity trek to Peru with Turia Pitt for Interplast
Hi there,
I have decided to make a difference by creating my very own fundraising appeal for Interplast Australia & New Zealand. After two years of significant health issues and ongoing challenges leaving me tube fed but determined to make a difference for a cause close to my heart after recently meeting the inspirational Turia Pitt I will join her team fundraising for Interplast! I also recently lost my little sister Jo-Anne whose memory I dedicate this journey to.
By joining Turia's Inca Trail Challenge I will help Interplast repair bodies and rebuild lives throughout the Asia Pacific region.
For decades, Interplast has worked on the ground in some of the world's poorest countries to provide free surgical treatment
and facilitate safe, healthier and more sustainable healthcare initiatives.
With our support, Interplast's teams of volunteer plastic and reconstructive surgeons, anaesthetists, nurses and allied health professionals can continue to provide free surgical treatment to patients living with treatable disabilities such as cleft lip and palate, burn scars and severe hand injuries. The funds I raise as part of this incredible adventure will also enable Interplast to train the next generation of surgical leaders in the countries in which they work. Through education, training and mentoring programs we empower local medical personnel to perform life-saving procedures independently.
Click 'Donate Now' to make a secure online donation.
All donations over $2 are tax deductible and you will be issued with a DGR receipt via email as soon as you make a donation.
Thanks so much for your support!

Interplast Australia & New Zealand
For over 30 years, Interplast has worked in 25 countries and implemented over 600 surgical and allied health medical program activities across the Asia Pacific region. We provide free reconstructive surgery for patients who would otherwise not be able to afford access to such services and we empower local medical personnel by building their capacity to act independently. We've supported over 70 surgeons and nurses to continue part of their training in Australia, sent over 600 volunteers on medical programs, provided over 37,000 consultations and performed over 21,000 life-changing operations. Help us do more.
FUNDOMETER
Target
$5,000
Raised So Far
$3,055
Biggest Supporters:
Anonymous: $200.00
Alison Mannell: $159.00